Learn about Musiversal Studio's On Demand credits
This article is about Musiversal Studio.
For similar information regarding Musiversal Unlimited, visit this article.
If you're not ready to commit to a Pack yet, or if you'd like to test the service for future projects, you can start with our On Demand plan, to get individual sessions as you go.
In this article, you'll learn how to:
1.
Sign up
2.
Get credits
3.
Book your sessions
4.
Upgrade to a pack
---
Sign up
1. Go to our Sign up page
2. Enter your Email address, name and password
3. Click on the "Sign up free" option when choosing a plan
If you're a returning user, you can directly access to your Musiversal account, from our Login page.
Get credits
1. Log in with your Musiversal account
2. Click on the Credits option, next to your avatar (upper right)

3. Select the amount of credits you want to get, along with your preferred payment method, and follow the steps to make the payment. You'll see the credits' cost in the "Pay" button below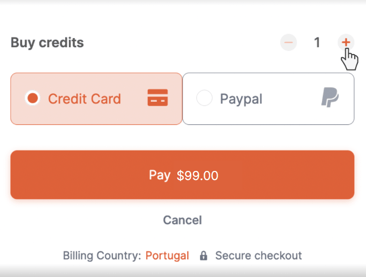 4. You can check your new Credits balance on the navigation bar above, or from your Billing area

Book your sessions
Learn how to start booking here.
Upgrade to a pack
Are you ready to get more sessions and save up to 40%? Simply purchase one of our packs. Find all the information about our current pricing options in this article.
---
Need help? Contact us to get personalized Support.