Visit your Billing area and automatically cancel your subscription at anytime.
* If you are a legacy user, you will not see the options described below in your account. Please email us at support@musiversal.com if you wish to cancel your subscription.

1. Go to My Profile > Billing



2. Click Manage subscription



3. To cancel, simply click Cancel plan




4. The cancellation will come into effect on your next billing date.
Until then, you'll still have the same full access as per your plan.

5. Until the next billing date, you can also choose to Renew your plan, which essentially undoes the cancellation, so that you can continue on the plan.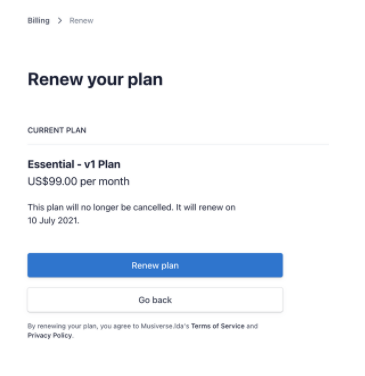 6. After cancelling, on the next billing date, you will be unsubscribed. That means you won't be able to book sessions and your usage will be set to 0 / 0.

Unsatisfied with our service?
We would love to know why you decided to cancel your subscription.
Please, share your thoughts by emailing support@musiversal.com.