Learn how to upgrade or downgrade your subscription in 3 easy steps.
Note: If you don't see this in your billing section, please contact support@musiversal.com

1. In your My Profile page, select Billing:




2. In the billing section you can view how many credits you have left, according to your current subscription plan:




Below the above section, you'll find an area that displays all our subscription plans.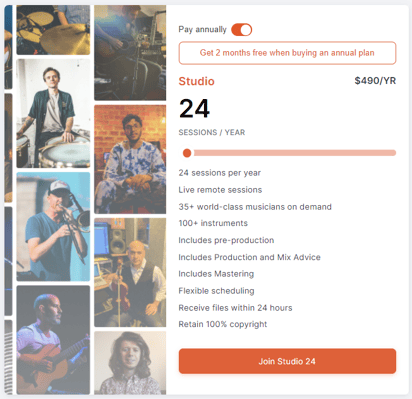 Click along the orange line to see the plans, and click on the "Pay annually" switch to see the Annual ones:

3. Click on the "Join" button of the plan you wish to upgrade or downgrade on to. You'll be automatically redirected to the payment page:


3.1 When upgrading:


Upgrading your plan will take effect immediately. This means that when you upgrade, the credits' allowance on the upgraded plan will be added to your current allowance. Unused credits from the former plan will rollover into the new one, and the credits bank capacity will update to the one corresponding to the upgraded plan. Learn more about this in our Credits system specifications.
You will be charged the full amount of the upgraded plan price.
3.2 When downgrading:


Downgrading will come into effect on your next billing date. This means that for the remainder of your billing period, you will have access to the same benefits of your current plan, and upon your next billing date, you will be enrolled into the downgraded tier with the corresponding features and pricing of that tier.
After your first billing date on the downgraded plan, you are no longer entitled to those features which were provided on your previous plan. Any unused credits from the former billing cycle, while being on the previous plan, will rollover into the new one, but the credits bank capacity will update corresponding to the downgraded plan for future credits. Learn more about this in our Credits system specifications.
For example, if your previous plan granted you 10 credits, and your downgraded plan awards you 5 credits, when your downgrade comes into effect, you will only be entitled to a maximum of 5 credits.

Need to edit your billing and/or credit card details and download your invoices?
Learn how in this article.