Send your materials and receive your session links.
1. Send us your materials
You must send your materials up to 24 hours before the booked session (48-hours for Mastering).
You can do so by following the link on the booking confirmation page and email, or by visiting your "My Sessions" page.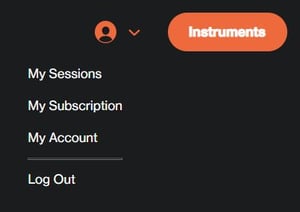 Scroll down to: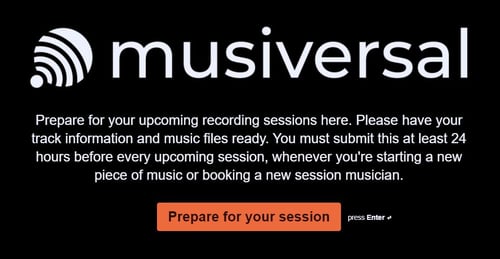 Click "Prepare for your session"
There you'll be able to send info about your track, such as the title, bpm and a reference track. You'll also be able to send us your music files.
2. Receive your session links.
24 hours before your session, we'll send you the livestream links via email - which you can forward on to any guests whom you'd like to attend.
We also email you a reminder 1 hour before the session, with the same links.
Can your session be cancelled?
The short answer is "Yes". But sessions will only be cancelled in the most extreme of cases.
Namely, this will be when either:
a. Your pre-session materials are unworkable and require significant improvement. In this case, we will recommend that you book a pre-production session with one of our producers.
b. Your intended use of the session goes beyond our
Terms of Use
. For example, you wish to record a Bach chorale or a Beethoven sonata.
Your session will still go ahead:
c. Even if you fail to send materials before the 24-hour guideline (48-hours for Mastering).
d. When your materials require some improvements or additional files.
e. Your materials require more than 1 session to be completed.
In all three cases, your session will still go ahead as planned. However, rather than cancelling it is likely that some or all of your session time will be used instead to prepare and/ or improve your material.
For 'd.' and 'e.' we will email you (at the earliest opportunity ahead of the session) with further information on how you can improve your materials, or with how many sessions you'll need to fully record your materials, respectively.