You can message our artists after booking your session, before the session, and after you've received your materials.
There might be some situations where you need to communicate with the artist regarding your session, or session materials. The platform has a messaging system built-in, so you can easily make contact with them. Use the messaging system to:
Provide clarification, updates or requests on your pre-session materials
Giving notice about session details, i.e. "I'll be late for my session", "I selected I wouldn't attend the session at first, but I'm attending"
Request revision or clarification on specific points of the session's material: missing takes, material formats, etc.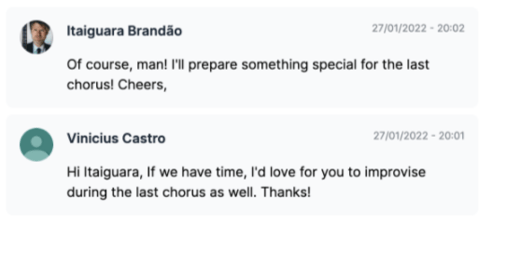 Don't use the messaging system to:
Ask questions about navigation or usage of the platform
Report tech bugs/issues
Report last minute issues happening during a session
Request the musician to add elements or keep on working on your recording once the session has ended
Share, request or provide any type of information outside the session's scope
For any of the purposes mentioned above, please send a request to our
Support form here
, and we'll follow up in less than 24h.
How does it work?
While booking your session
Choose the slot you'd like to book, and provide your track details.
Go to the "Deliverables" tab

Look for the "Send a message" field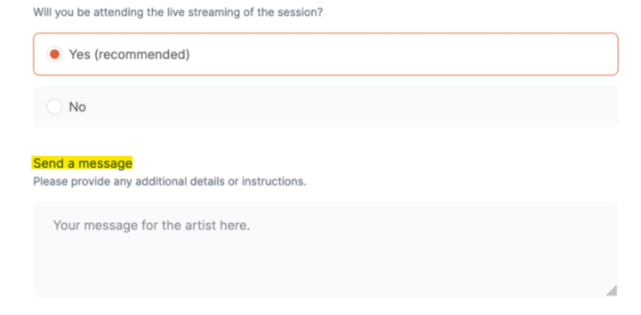 Write your message and, by confirming the booking, the message will be sent along with your session details.
After booking your session
Go to "My Sessions"
Click on your session
Go to the "Messages" tab and send your message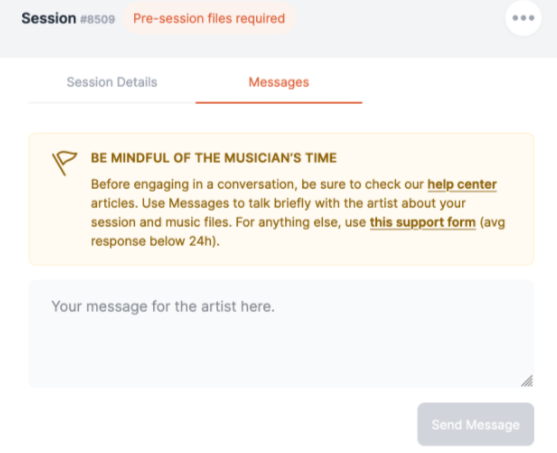 ♦ The conversation will be enabled until 4 days post session. After then, contact us via our Support form here for any further communications.
♦ Learn how to set the notifications for your communications here.