We strive to provide you with top-notch, personalized support. Learn how to submit your requests.
This article is about Musiversal Studio and Musiversal Unlimited.
Find the differentiation between links in the sections below.
In this article, you'll learn about:
1. Support form and Support working hours
3. SOS - problem in a session happening now.
---
Support form
Your support requests must be sent through our Support form. You can access it through this link, or within the platform, following these steps:
1. Go to our Explore page (Studio) or Explore page (Unlimited)
2. Click on your avatar
3. Select "Contact support"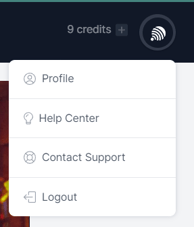 4. You'll be redirected to our Support form, where you'll be prompted to provide all the necessary information.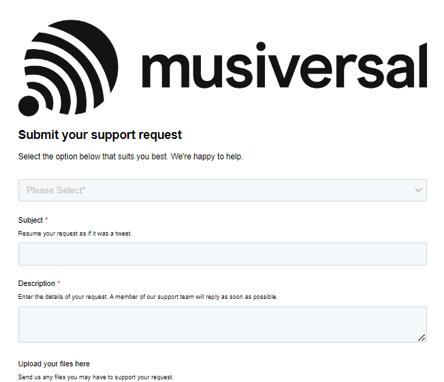 Support hours
Our Support team work at the most of its availability to be there for you for urgent issues, and address them as soon as possible.
You can expect all requests to be replied to in less than 24h during the week, and 48h during the weekend.
You'll be informed in case there are any occurrences in the support team's schedules, which may result in temporarily longer response times.
---
Support categories
When filling in your information, you'll be requested to select a category. It's important you do this, for us to be able to prioritize your request accordingly. Make sure you select the one that's most accurate to your case.

⬆️
---
SOS - Problem in a session happening now
This is a very important category in our Support form, which should be used with a certain criteria.
Select the SOS category when:
1. You have a session at the moment, and are unable to join because of a tech issue.
2. You're waiting for the session to start, but the musician isn't there.
3. You're currently in the session and are having issues with Audiomovers or Zoom, and need assistance.
4. You have any other issues regarding a session happening now, or a 5/10' from now.
Don't select the SOS category when:
1. You're running late for your session. You can inform this to the artist via our Messaging system. They will start the session at the agreed time, and will admit you to the session when you're there.
2. You have a request that doesn't involve a session happening now, or in a few minutes.
3. You need to send last minute materials to the artist for your session. You can submit them over the platform, and you can agree with them on how to use them during the session.
---
Need help? Contact us to get personalized Support.