Now that you're all set, it's time to starting booking sessions to record the instruments of your choice.
1.1 Go to our

Explore

page, and filter by service or instrument on the top bar

1.2 Find the artist you want to book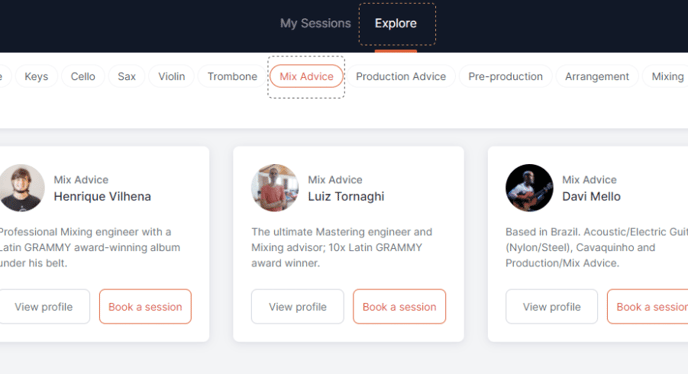 2. Click on "Book a session" in the artist's card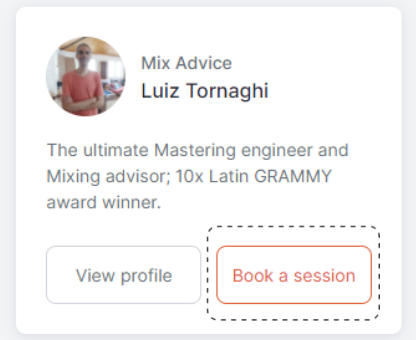 3.1 Click on the slot you want to book in the artist's schedule
(jump to step 3.2 if you want to book back to back sessions)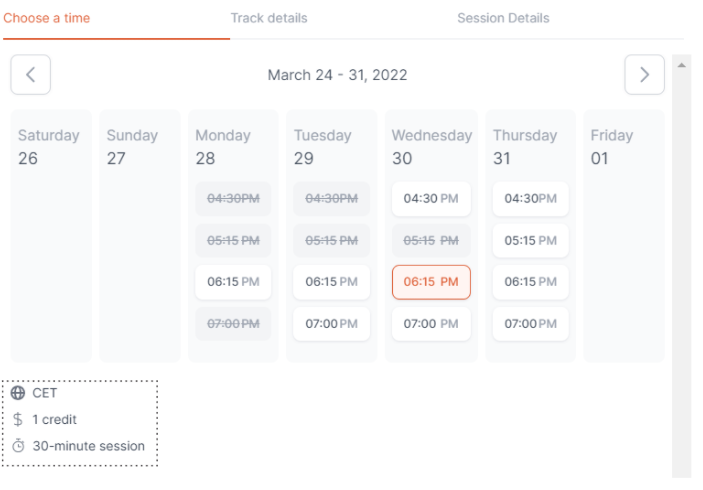 You'll see the time zone in which the slot is expressed, how many credits will be taken from your allowance once the booking is made, and the duration of the session at the bottom
3.2. To book a longer session to work on your song, find 2 or 3 consecutive slots in the calendar
(You can book up to three 30' slots and up to two 45' slots to make a longer session. Find out more on session duration here).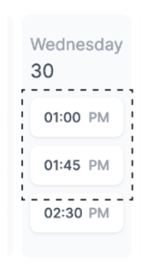 3.2.1 Click on the first slot and the consecutive one. They'll automatically merge into a single one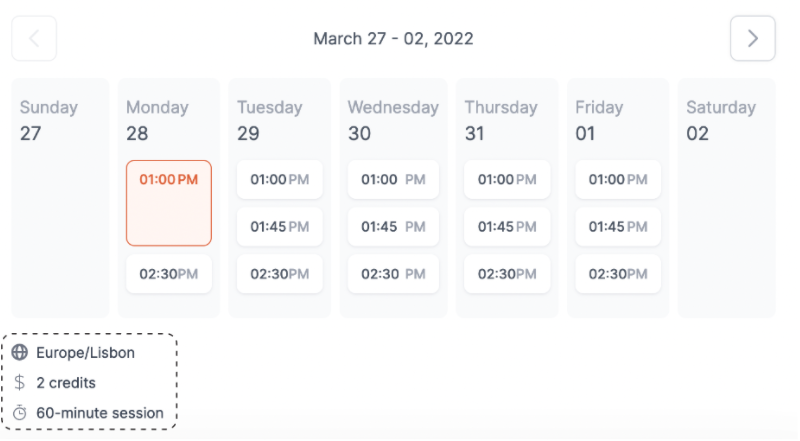 Check the total duration of the session and its value in credits at the bottom left.
3.2.2 Click again on each of the already merged slots if you need to deselect them
4. Go to "Add track details" at the bottom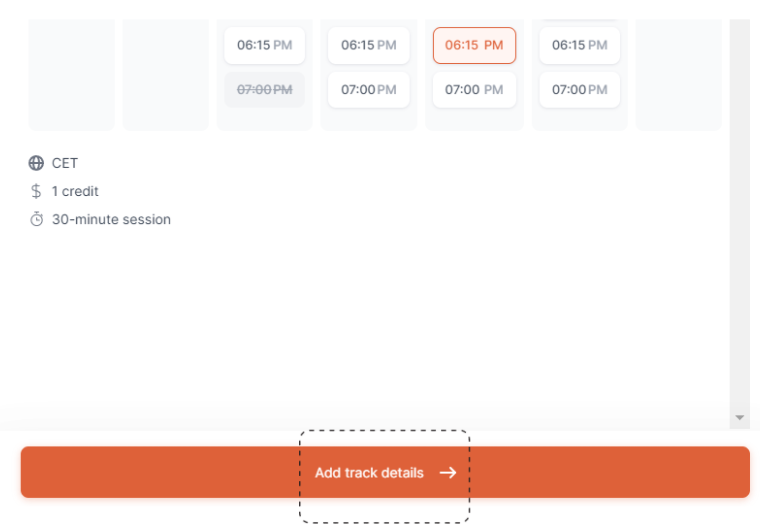 5. Fill in the fields with your track details (track name, genre, reference track, etc.) and hit "Add session details" at the bottom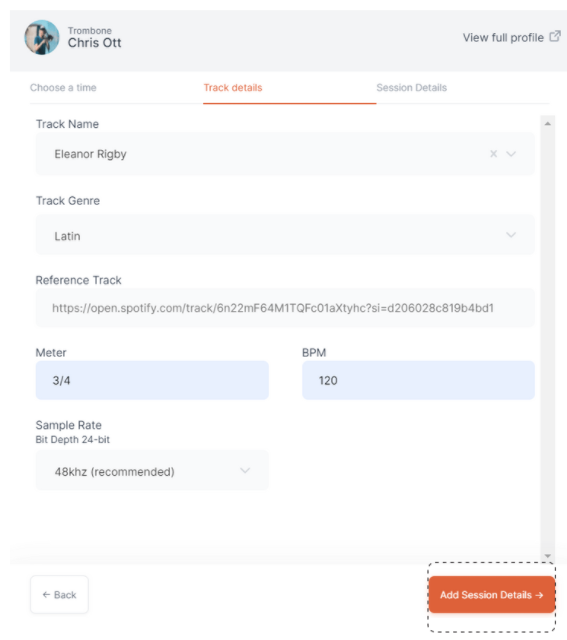 6.1 At this stage you'll inform the artist on the general logistics of the session, like your attendance and how you'd like to receive the materials. You can also leave your notes.
6.2 Hit "Next" once you're done.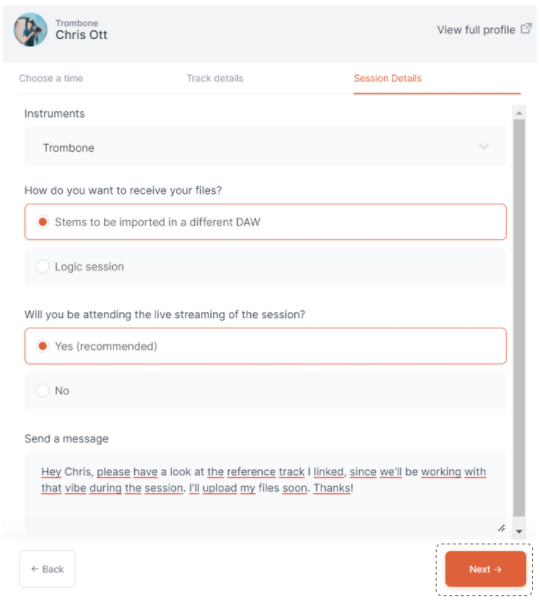 7. Confirm your booking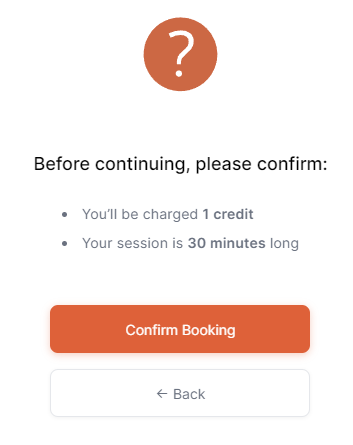 8. Your session is booked now! You can add the event to your Google Calendar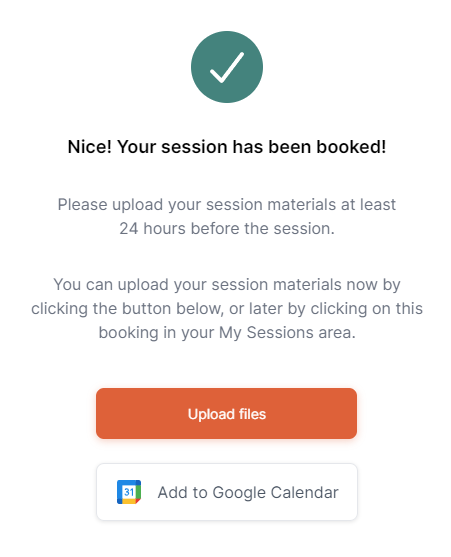 - The next step will be to upload your pre-session materials for the artist to prepare for it. Find how to do this here.
- You can also edit your session details once you've submitted them. Learn how to do that here.