How to get started and navigate the platform and your subscription.
This is the USER GUIDE for your subscription plan.
Welcome to Musiversal 🎸 Unleash your creative expression and make more music!
1. Getting answers
Where to find quick answers to your questions:


1.1. In this Help Center. Start typing something. Related articles will appear 👇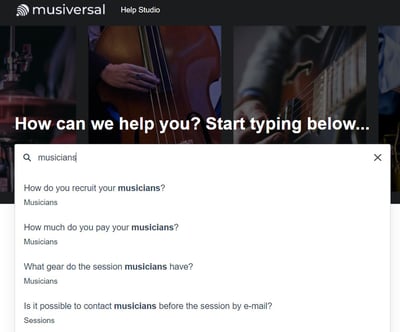 1.2. In the Studio Hangout Facebook Group, where you can interact with experienced fellow Musiversal® Studio users.
2. Booking sessions
Visit https://studio.musiversal.com/explore to choose your next instrument and book sessions.
Learn how to book a session in this article.
3. Prepare for your session
When booking your session, you'll be asked for information about your track like name, genre and bpm. You don't have to upload the materials right away. You can do so by clicking the session's button in your Sessions page, when you're ready.
Materials must be submitted at least 24 hours before an upcoming session (or 48 hours in case of Mix and Production advice, and Mastering)
⚠️Failing to do this will result in the cancellation of your session ⚠️
Learn how to prepare your materials here.
4. Customer support
5. Live-streamed session experience
Here are some articles about the live-streamed sessions:
What is a session and how do sessions work?
Do I need to install any software to join the sessions?