How to get started and navigate the platform and your subscription.
Welcome to musiversal 🎸
Unleash your creative expression and make more music!

This is the User Guide for your subscription plan. From here you can find answers to most of your questions.
1. The Help Studio & The Studio Hangout
If you have any questions about The musiversal® Studio, we recommend that you:
A. Read the FAQs in The Help Studio - Start typing a question and answers appear 👇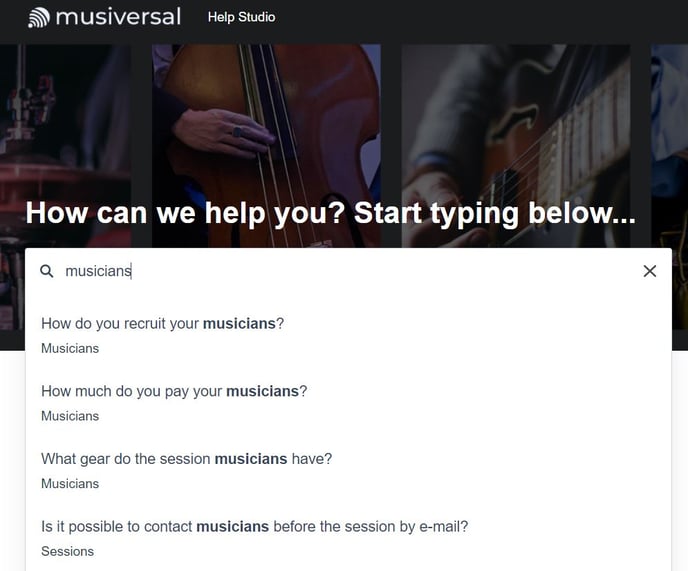 B. Join The Studio Hangout to get your questions answered from your experienced fellow musiversal® Studio subscribers.

Most times you'll find the answers to your questions very fast. You can also contact us (point 4 below).
2. Booking Sessions and the unlimited model
Visit studio.musiversal.com/instruments to choose your next instrument and book sessions.

You can book as many sessions per month as you want! Yes, unlimited.
You can maximum have 5 sessions booked at any given time.
Eg: Book 5 sessions today for Thursday. Then once those sessions are complete, i.e. on Friday, you can book 5 more sessions.
Being amongst one of our first subscribers, you're probably already aware that we are fine-tuning musiversal while running it, so that you and the rest of the community can have access to high-quality musicians and world-class music production.
We appreciate your understanding in helping us serve the community and creating an enjoyable experience for all.
3. How to prepare for your sessions
When you start a new piece of music or book a new session musician, you must submit your prep material at least 24 hours before an upcoming session.
⚠️Failing to do this will result in the cancellation of your session ⚠️

You can do so by following the "Prepare for your session" button in your My Sessions page.

Here is an article on what you need to send over to each musician.
4. Customer support
You can reach out to us via email on support@musiversal.com.
You can alternatively use the chat widget. We have created a musiversal chatbot 🤖 to answer your questions as fast as possible. Give it a try 😎
5. Live-streaming sessions experience
Here are some articles about the live-streaming sessions:
A.
What is a session and how do sessions work?
B.
Do I need to install any software to join the sessions?